MTWTF is a design studio that creates communication platforms for cultural, commercial, educational, and civic clients. The studio situates itself within the broadest discipline of design — the shaping of our shared physical and electronic environment — and creates communication tools that foster discussion and facilitate change. We apply a comprehensivist design approach to projects that range from placemaking collaborations to civic engagements to the creation of editorial platforms that are rich in narrative. MTWTF believes that good design has the power to help individuals, organizations, and businesses clarify what they do and manifest their ideas to make change happen.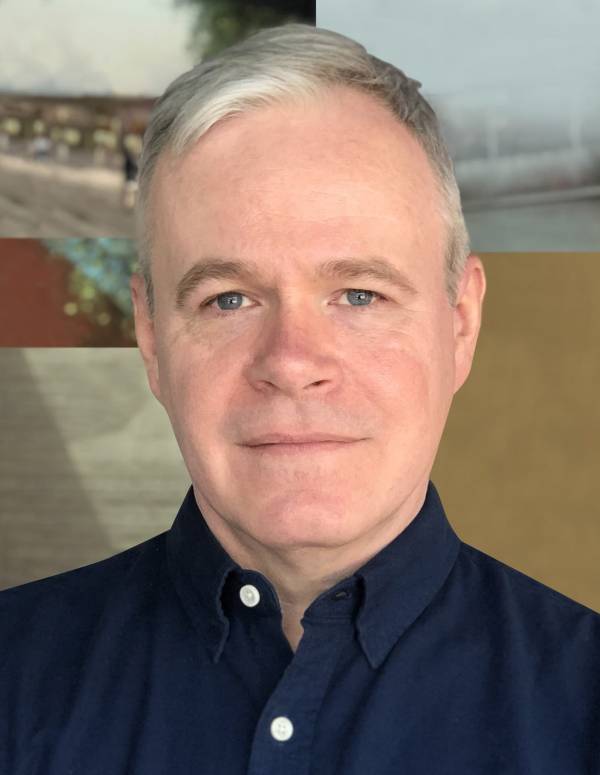 Glen Cummings
Founding Partner
Glen is the creative director at MTWTF. Glen collaborates with a wide range of clients to translate complex content into engaging visual and environmental experiences. Glen operates as an editorial adviser and designer, driving the narratives that shape MTWTF's response to the topics concerning organizations today— from housing shortages to innovative workspaces to New York City's music scene. His collaborations with performing and visual arts institutions include signage and environmental graphics for Red Bull Music Academy, the Claire Tow Theater at Lincoln Center, the Brooklyn Museum and MoMA. Glen's work with the public sector includes identity, wayfinding and placemaking projects commissioned by the Metropolitan Transportation Authority Construction Company (MTACC), Newark Riverfront Park, Design Trust for Public Spaces and the Brooklyn Public Library. Glen's work in print has been widely exhibited and published by Monacelli Press, Metropolis Books, and Columbia University. From 2002-13, Glen acted as a design critic at the Yale University School of Art, where he received his M.F.A. in Graphic Design. In New York City, Glen has engaged with the design community as Vice President of AIGA/NY, a fellow for the Design Trust for Public Space, and the founder of GDNYC, a consortium of designers and educators that promote design research. Before establishing MTWTF in 2008, Glen was an art director at 2x4 working with clients such as MTV, Prada, Chanel, Dallas Center for the Performing Arts, and the Muhammad Ali Center.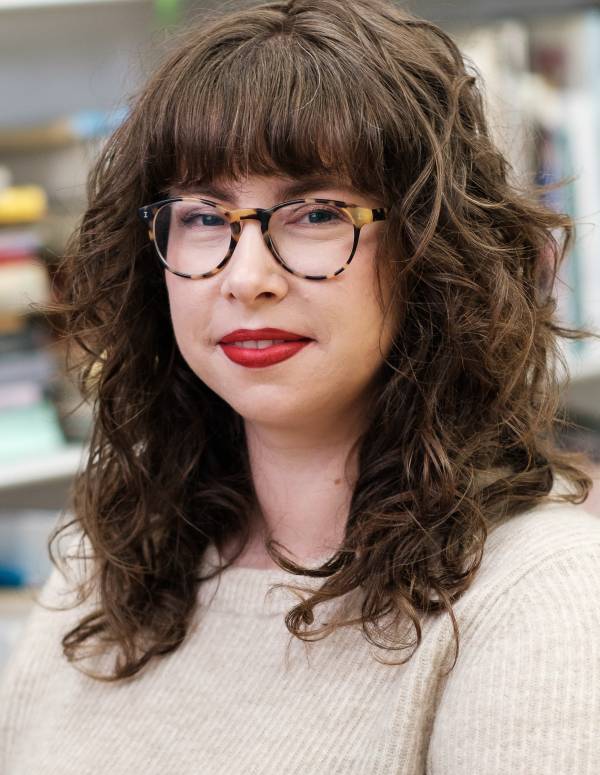 Sarah Dunham
Partner
Sarah is a Partner at MTWTF, where she has been shaping design processes, managing interdisciplinary design teams, and facilitating community engagement since joining the studio in 2014. Acting as project manager and art director, Sarah develops design strategies for projects that are drawn from a rigorous engagement with their content. This approach drove exhibitions including 'Utopia—Dystopia' a multimedia exhibition at A/D/O, 'Seeing Equal Rights in New York State' an interactive exhibition at the Equal Rights Heritage Center, and 'Climates of Inequality' an interactive exhibition of student work on environmental justice by the Humanities Action Lab. With each of these projects, Sarah worked with the design and client team to visualize the thinking behind the exhibition while managing a team of designers, researchers, and fabricators through project completion. Trained as an architect with professional experience at practices including OMA and WORKac, Sarah brings a unique ability to translate architectural narratives, both spatially and in print. Sarah has collaborated with clients including the Brookings Institution, the Village Alliance, SCAPE Landscape Architecture, and OMA to visualize work around issues of urban design and architecture. With signage and environmental projects, Sarah oversees concept design through fabrication and installation including work for Brooklyn Public Library, Minnewaska State Park, and Etsy. She is currently directing signage and environmental projects for Lovett Development in Houston and Brookfield Properties in New York.
Joel Kern
Senior Designer
Joel is a designer at MTWTF. Joel's constructionist design approach takes shape through a range of media types — oscillating between the characteristics of typography, multi-materiality, and spatiality. This approach straddles the borders of graphic design, environmental design, and social sculpture. Joel has engaged in design collaborations with C-U-B-E: Experimental Design Lab, the campaign of Marcia Ranglin-Vassell, and the Humanities Action Lab. Joel received his MFA (Graphic Design) from Rhode Island School of Design and his BFA (Graphic Design) from the Lamar Dodd School of Art — University of Georgia. Joel is interested in the human relationship to public space and new ways of connecting communities.
Melia Tandiono
Designer
Melia is a designer at MTWTF. Melia primarily works on print and identity projects. Melia has worked on projects for TAD Associates, MIT School of Architecture and Planning, and Columbia Books on Architecture and the City. Melia holds a BFA in Graphic Design from ArtCenter College of Design. Prior to joining MTWTF, Melia has worked for New York Times and Apple.
AIA New York Chapter
A/D/O
Arthur Ross Architecture Gallery
Bjarke Ingels Group
Brookings Institution
Brooklyn Museum
Brooklyn Public Library
Brown Institute for Media Innovation
Cairo Urban Initiative Project
Center for Architecture
Center for Urban Pedagogy
Center for the Humanities and the James Gallery, CUNY
Citizens Housing and Planning Council
City of Newark, New Jersey
Design Trust for Public Space
Deste Foundation, Athens
Dia Art Foundation
Etsy
Film Society of Lincoln Center
Graduate School of Architecture, Planning and Preservation, Columbia University
Haus der Kulturen der Welt
INABA WILLIAMS
LO-TEK
Lincoln Center Theater
Metropolis Books
Metropolitan Transportation Authority Construction Company (MTACC)
Minnesota Street Project
Monacelli Press
Museum of Jewish Heritage
Museum of Modern Art
New Museum
New York City Department of Probation
New York Magazine
New York Mortgage Coalition / ArtHome
Office of Metropolitan Architecture (OMA)
Red Bull Music Academy
Spatial Information Design Lab
SCAPE Landscape Architects, PLLC
SITU Studio
SOM (Skidmore, Owings and Merrill)
Storefront for Art and Architecture
Studio Museum Harlem
Temple Hoyne Buell Center for the Study of American Architecture
Village Alliance
WORKac
Yale University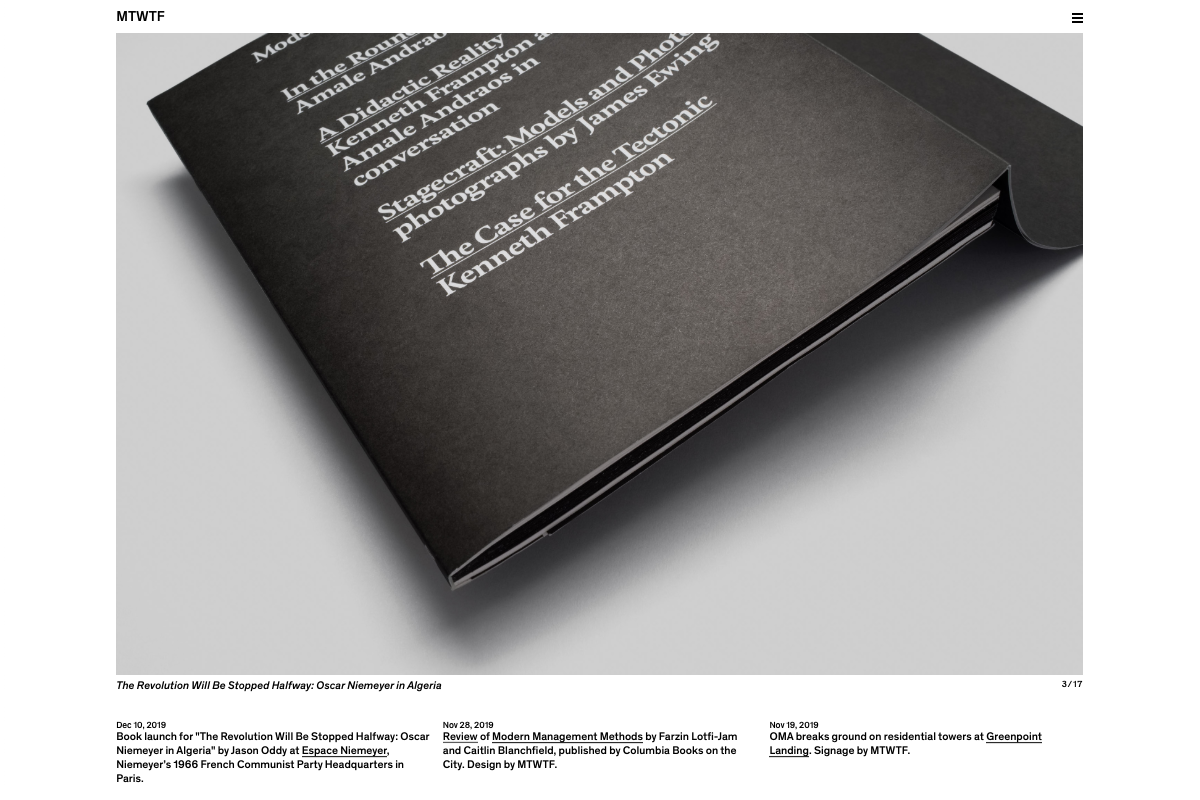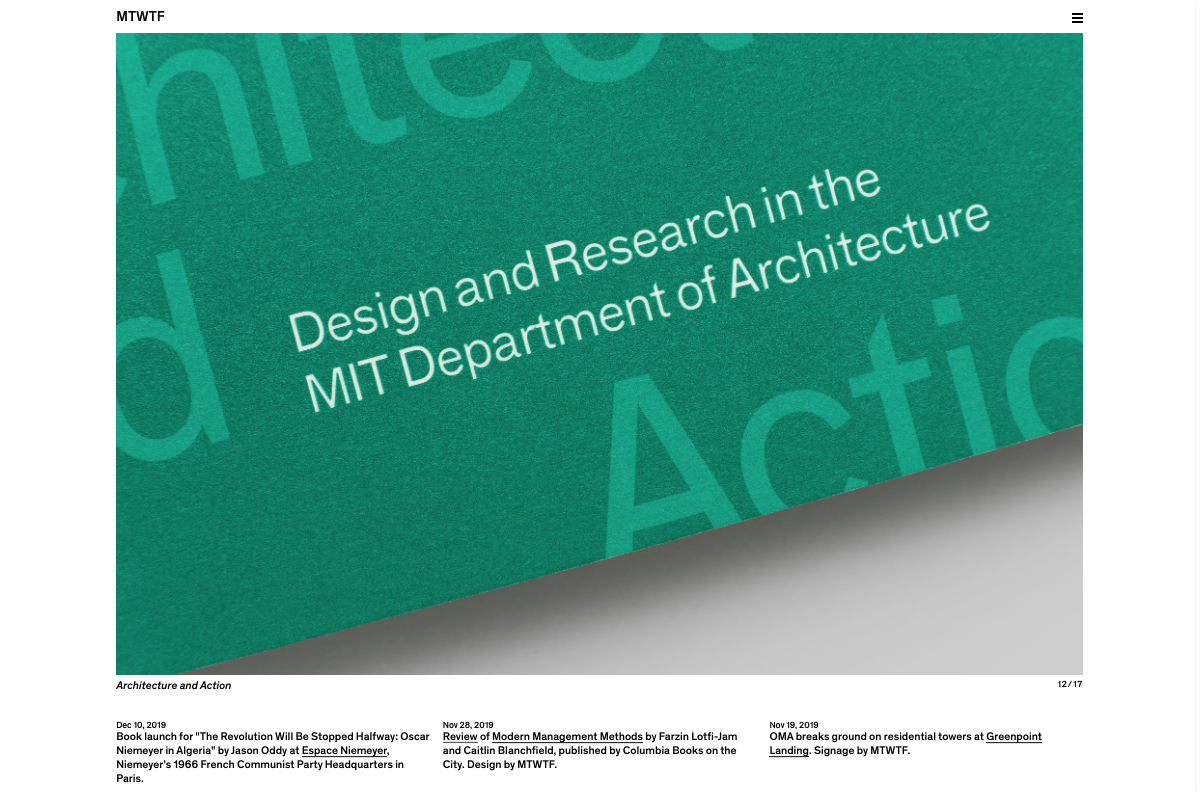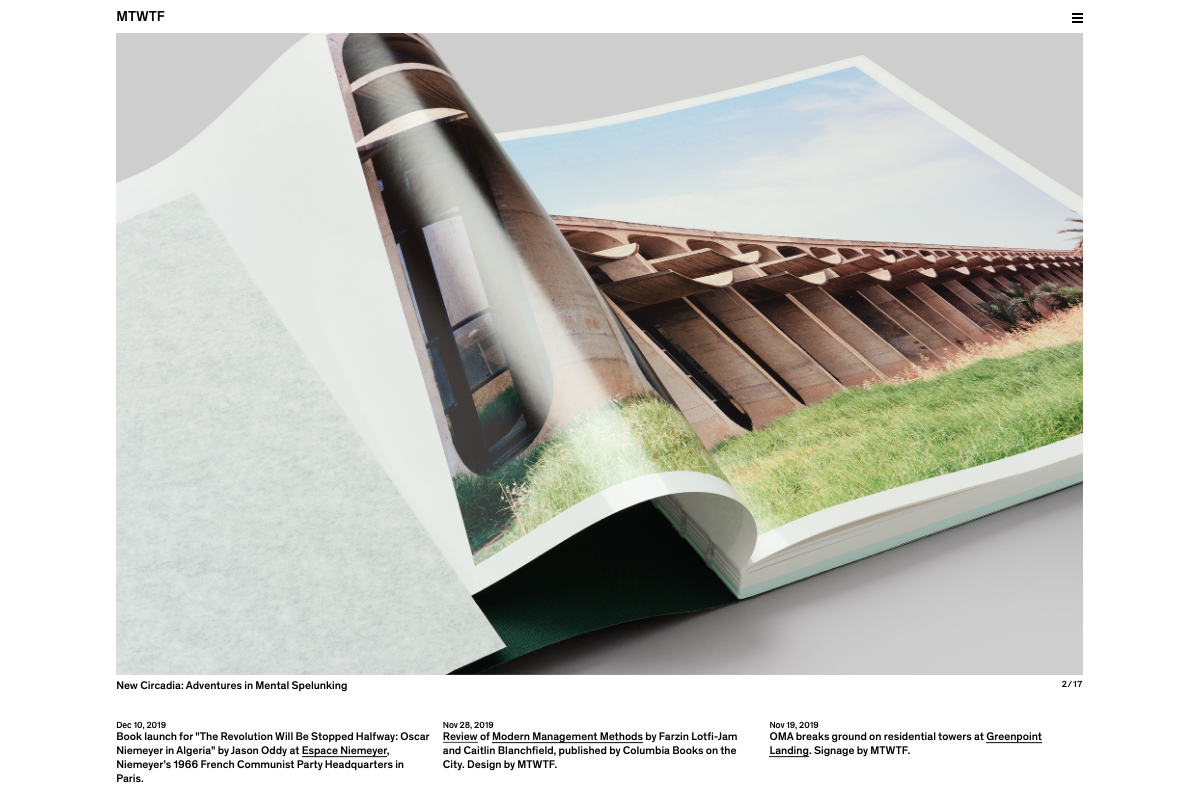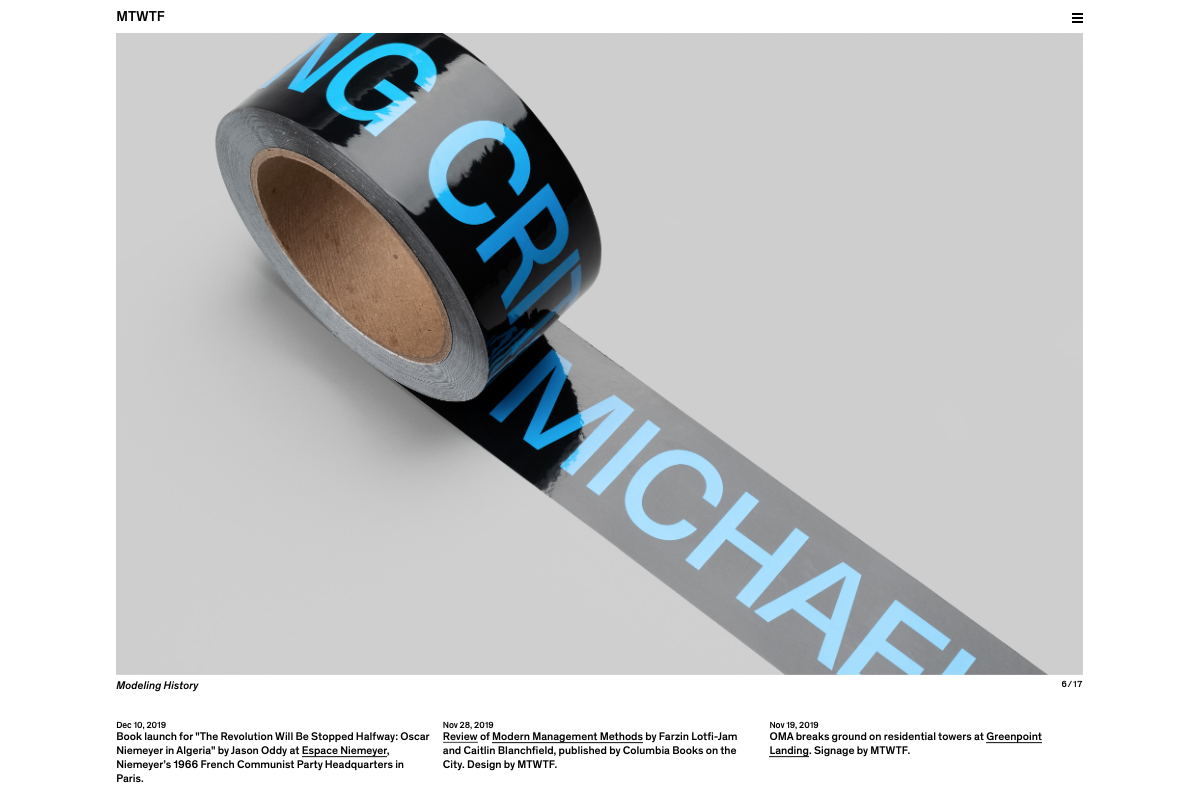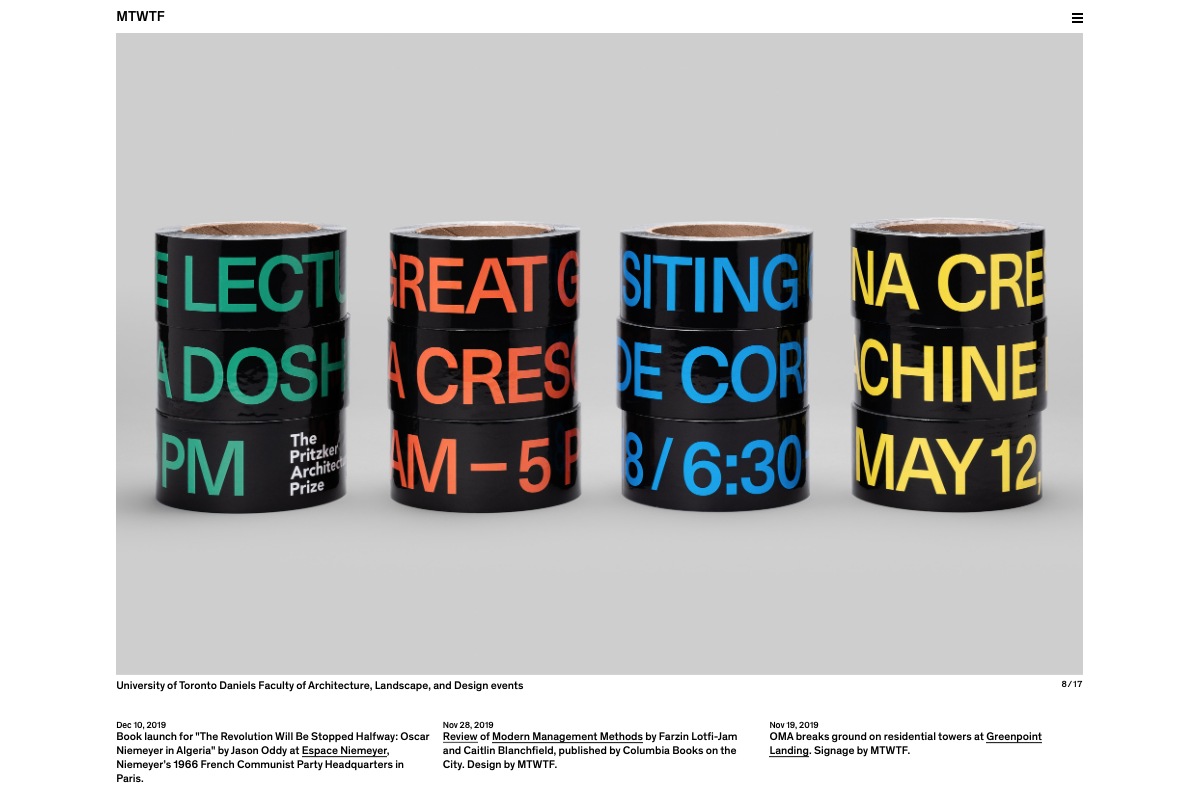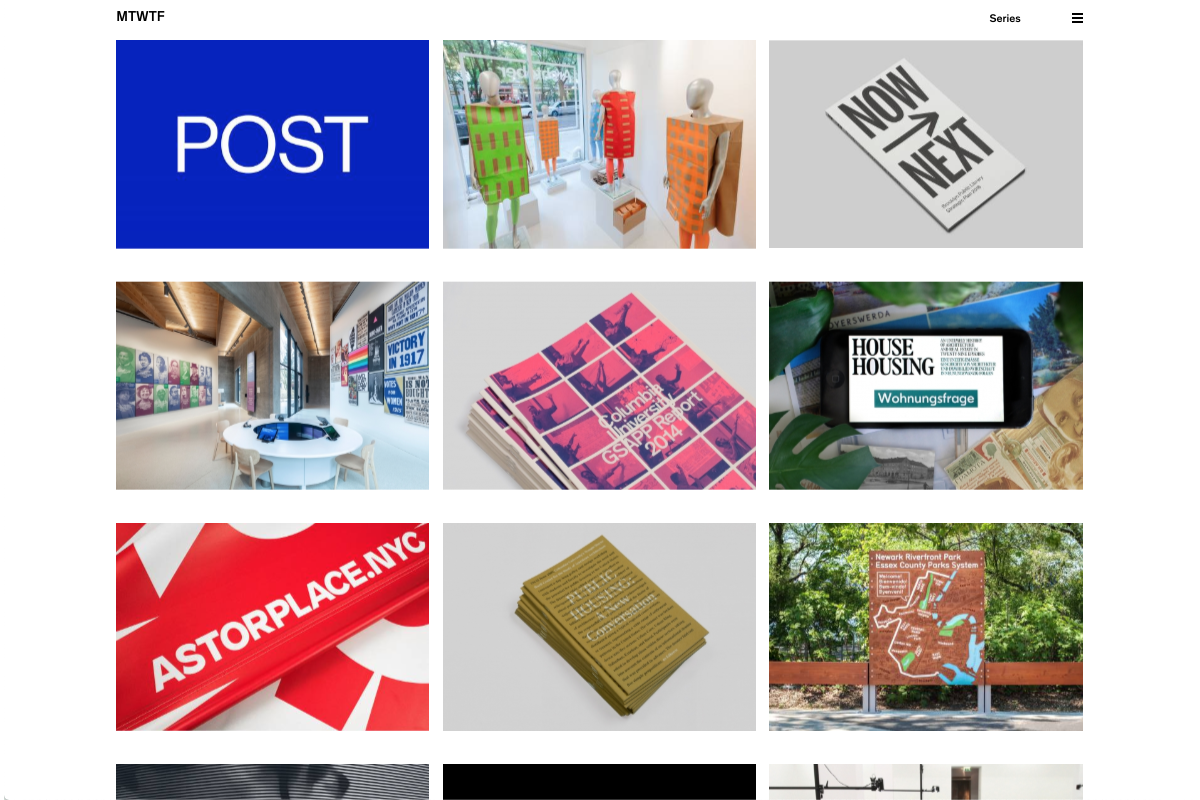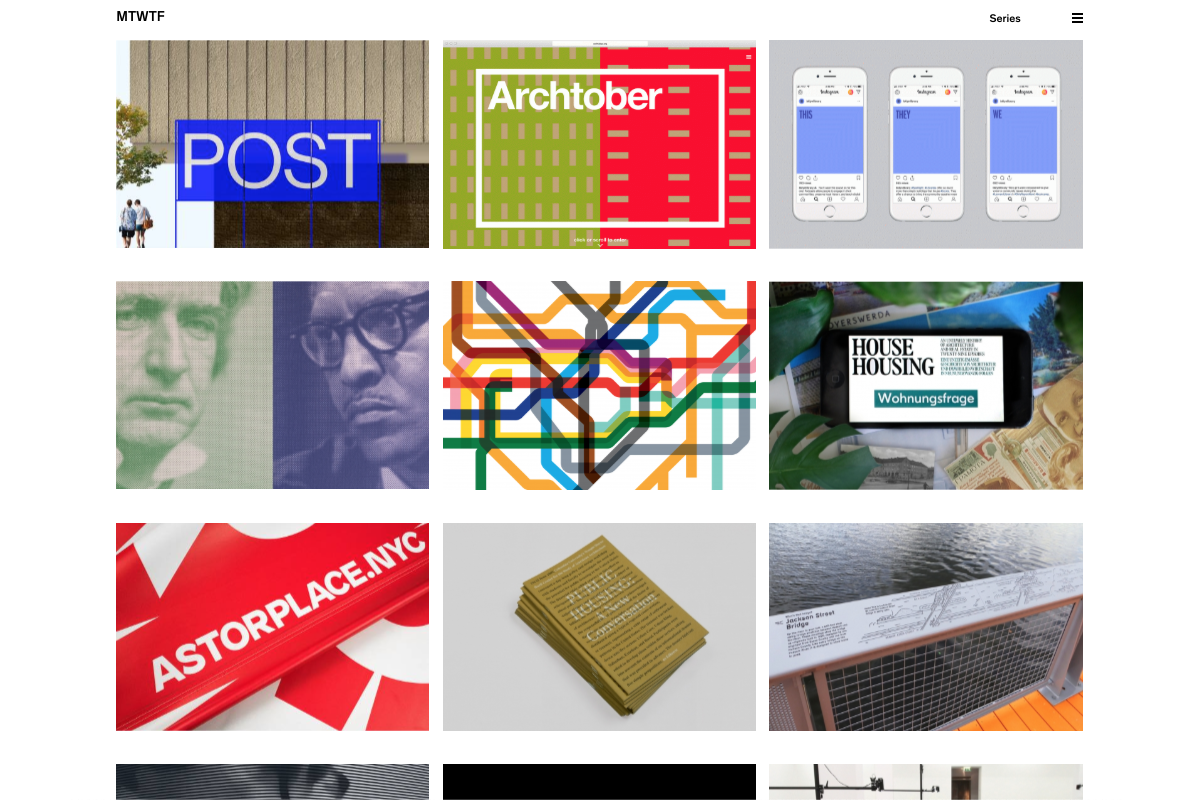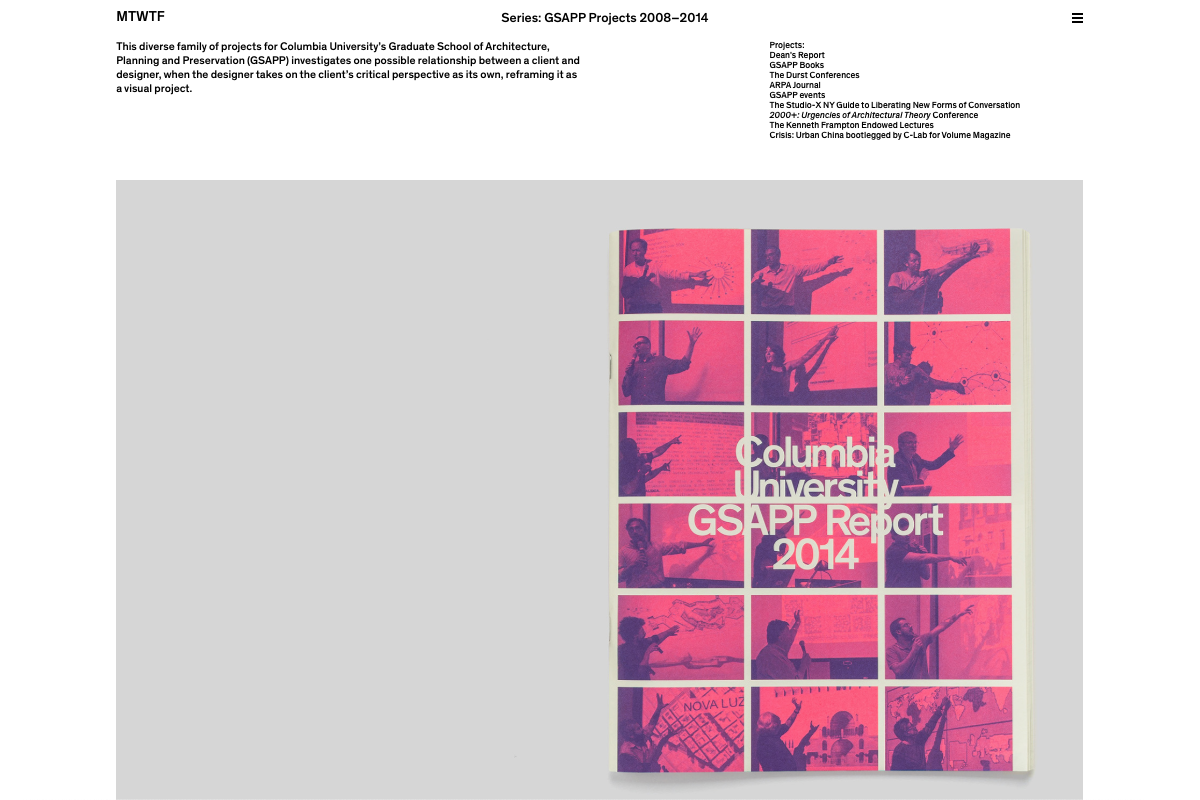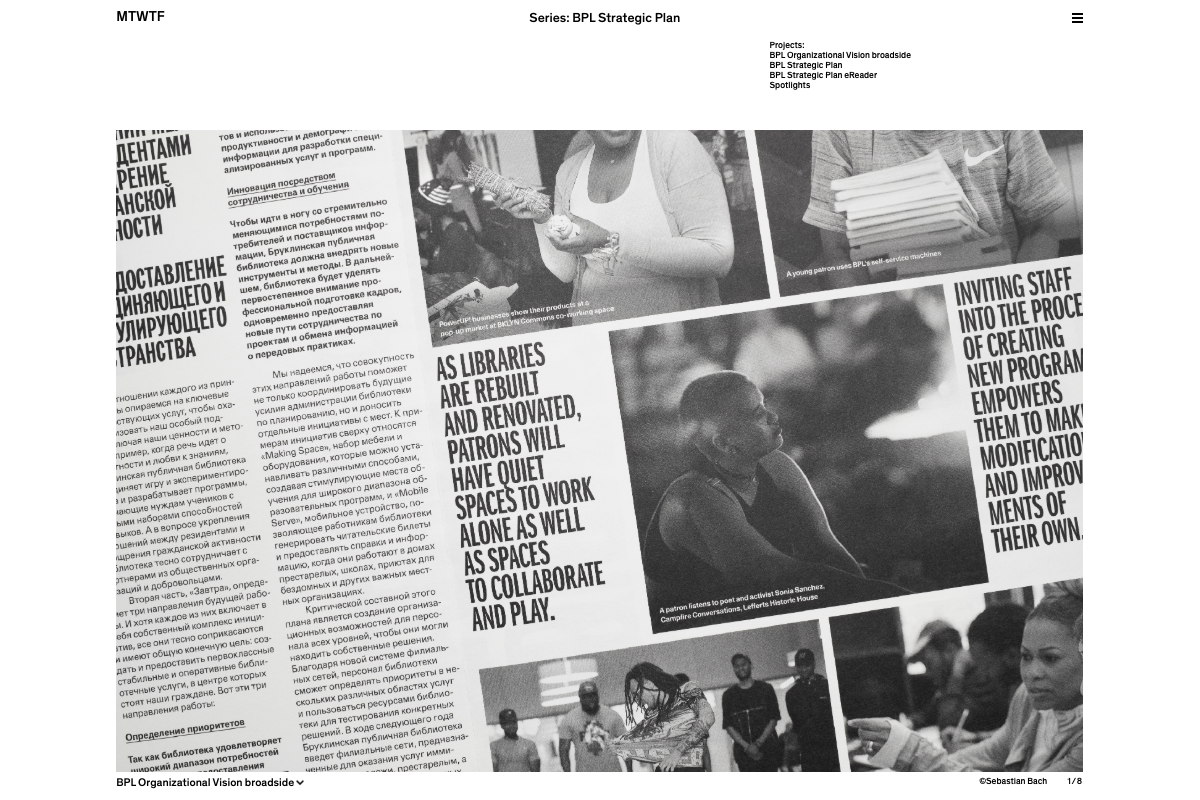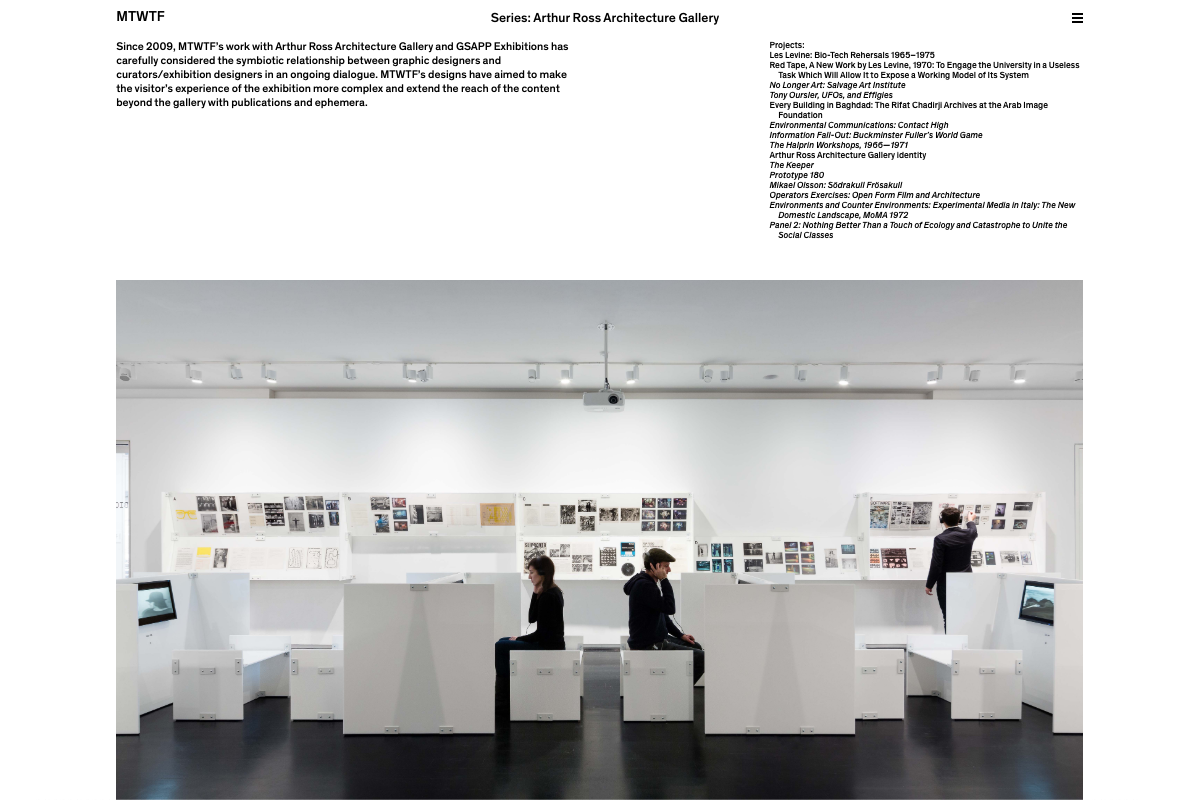 MTWTF.com is a living archive for the studio's work which organizes projects into four broad categories. Environmental projects use visual information to shape their specific environment(s). Identity projects create, clarify or convey identity with representational tools. Platform projects use media to create transformative situations where participants create and share knowledge while collaboratively building the platform. Media projects explore the opportunities that arise when content is transposed from one medium to another, or when multiple mediums are coordinated to form a whole.
Over time, many projects in the studio have evolved into long-term dialogues expanding across multiple years and multiple projects. This website articulates these ongoing conversations by grouping projects with similar ideas or questions as Series.